Good morning! Over here in the Pac. NW we've had some lovely Spring days, but now we're back to typical Portland rain. Regardless, the sandals have been pulled out and I'll do my best to find 'just warm enough' days to wear them.
Little S is over 11 months old now! Wow. I'll share her 10 month and 11 month pictures with you. Yes, I know you need to see those baby knee rolls. Here ya go:
10 months old
11 months old on Easter
Here are a couple of new favorite moments that happened over the last 2 months:
S fell in love with swinging!
And she ordered her first kids' meal, at Hopworks. No beer yet though, don't worry.
We have had a pretty fun Spring so far. We head to Nashville soon to introduce S to our dear friends there. We're also planning her First Birthday! Woah. This mama is finding that absolutely crazy. I am having fun planning the little get-together though and have decided on a gold/star theme. I've ordered super fun
party-themed tattoos from Wee Gallery
and a seriously
adorable star headband from Chamomile and Roses on Etsy
. (She's on vacation for the moment, but I'm sure the item will be re-listed soon). The cuteness!!!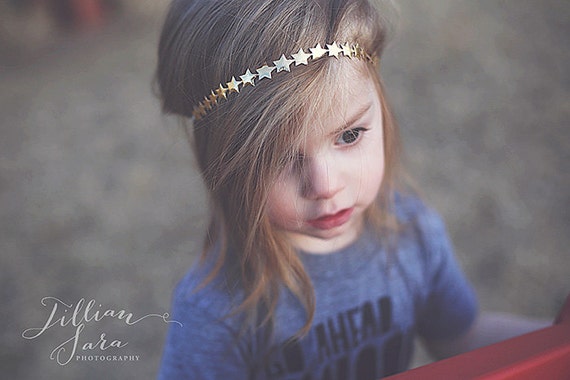 As far as knitting goes, I've actually been a busy bee lately! I've finished up a couple of projects (or almost have) that have been lingering on the needles (or hook) and am planning to write up a little eared hat I made for S (crochet fans, it's FINALLY a new crochet pattern from me!)
I've also started this lovely
Axil tank by Norah Gaughan
. Instead of doing it out of the yarn the pattern calls for though, I'm using the beautifully draping
Firefly by Classic Elite
in color Linum (linen color). The construction is really interesting on this one. You begin by knitting the center lace panel, then you pick up all around it to knit the rest of the front. The back of the tank is identical to the front, but I'm thinking I may do a solid center panel for the back. After knitting front and back, you then pickup for the ribbing at the neck to finish it off. Ah, Norah. She's so crazy creative.
I'm hoping to be back soon to post Sienna's little crocheted hat and most likely some photos from our Nashville trip. We're also getting family pictures at the end of the month by the insanely talented
Posy Quarterman
. Oh my. I'm beside myself excited.
Hope you're enjoying the Spring and are having fun finding some lighter weight projects. Please share what you're working on...I always love to see! xo