Wednesday, June 4, 2014
Posted by

Laura
at 8:12 PM
1 comment:

Sunday, May 4, 2014
Good morning! Over here in the Pac. NW we've had some lovely Spring days, but now we're back to typical Portland rain. Regardless, the sandals have been pulled out and I'll do my best to find 'just warm enough' days to wear them.
Little S is over 11 months old now! Wow. I'll share her 10 month and 11 month pictures with you. Yes, I know you need to see those baby knee rolls. Here ya go:
10 months old
11 months old on Easter
Here are a couple of new favorite moments that happened over the last 2 months:
S fell in love with swinging!
And she ordered her first kids' meal, at Hopworks. No beer yet though, don't worry.
We have had a pretty fun Spring so far. We head to Nashville soon to introduce S to our dear friends there. We're also planning her First Birthday! Woah. This mama is finding that absolutely crazy. I am having fun planning the little get-together though and have decided on a gold/star theme. I've ordered super fun
party-themed tattoos from Wee Gallery
and a seriously
adorable star headband from Chamomile and Roses on Etsy
. (She's on vacation for the moment, but I'm sure the item will be re-listed soon). The cuteness!!!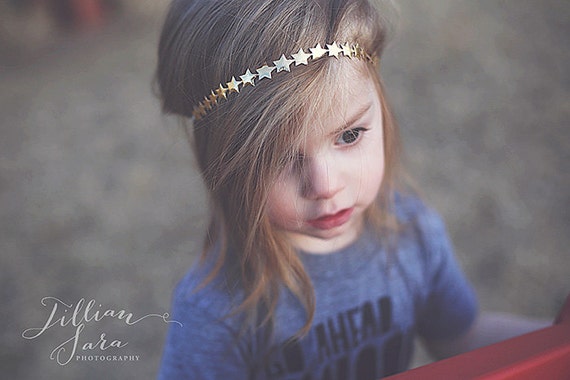 As far as knitting goes, I've actually been a busy bee lately! I've finished up a couple of projects (or almost have) that have been lingering on the needles (or hook) and am planning to write up a little eared hat I made for S (crochet fans, it's FINALLY a new crochet pattern from me!)
I've also started this lovely
Axil tank by Norah Gaughan
. Instead of doing it out of the yarn the pattern calls for though, I'm using the beautifully draping
Firefly by Classic Elite
in color Linum (linen color). The construction is really interesting on this one. You begin by knitting the center lace panel, then you pick up all around it to knit the rest of the front. The back of the tank is identical to the front, but I'm thinking I may do a solid center panel for the back. After knitting front and back, you then pickup for the ribbing at the neck to finish it off. Ah, Norah. She's so crazy creative.
I'm hoping to be back soon to post Sienna's little crocheted hat and most likely some photos from our Nashville trip. We're also getting family pictures at the end of the month by the insanely talented
Posy Quarterman
. Oh my. I'm beside myself excited.
Hope you're enjoying the Spring and are having fun finding some lighter weight projects. Please share what you're working on...I always love to see! xo
Posted by

Laura
at 7:43 AM
No comments:

Thursday, March 13, 2014
Yay! Another 'need for baby' list. I, too, thought "Oh, I won't overload my house with baby things" when I was pregnant. I still subscribe to that sentiment, but some things just make life easier = more time to actually spend with your baby = win win. Here are some of those things for us.
Baby Brezza (or similar) Baby Food Maker
This. Thing. It's amazing. Babies, at least mine, start eating a ton of food around this time! Wow. Sienna started slowly around 6 months, but now, at almost 10 months old, she's quite the eater! It may seem a little spendy to buy this, but trust me, it's worth it. You can steam and pureè the food all in one setting. It's very easy to clean, dishwasher safe, and doesn't take up much counter space. I do have a regular sized food processor, but it's SO overkill for baby food. I leave this out and use it daily to cook sweet potatoes, peas, carrots, apples, and a bunch of other fruits and veggies. I even made myself some quick cilantro pesto today for lunch! LOVE. Note: I purchased mine gently used on eBay. Through a mishap, they forgot my order and sent a new one to make up for it! Check out eBay!
I do love buying local, but now is not the time to worry about killing myself to get to every mom and pop shop for all of our every day items. I'm sure most of you already have Prime, or at least order from Amazon, but 2-day shipping is WORTH IT. We get diapers, dog food, formula and many of my really good quality supplements/vitamins from Amazon. They come right to your door. It's given me so much more time to focus on cooking for Sienna, cleaning the house a bit better, writing a blog...Taking babies in and out of car seats to go to 5 different stores on a regular basis is just not worth it to me right now. Be sure to buy local produce though and support your farmers, then it balances out ;)
Boon Silicone Feeder
I mentioned the
Munchkin Mesh Feeder
in my previous post,
what to get moms and babies 0-6 months postpartum.
I still love that thing, mostly now for putting frozen fruit in for Sienna to chew on when she's teething. The mesh feeder is pretty annoying to clean, though. We got this Boon feeder recently in our
Citrus Lane
box and I love it. It's so easy to clean and Sienna loves eating any kind of food from it: avocados, applesauce, blended fruits and veggies, etc. Fabulous.
Play Yard/ Foam Tiles/Safe Play Area
So. I really wanted to be the Montessori mom, letting my child roam freely throughout our house exploring, learning and developing. All very fine and good...until you have to go to the bathroom, change the laundry in the icky-floored basement, have 2 seconds to yourself...imagine that! I love having a little setup in our living room where I know Sienna is safe to play when I'm out of the room for a minute. The foam tiles add a nice floor to her area, since we have wood floors. This gives her quite a bit more room to crawl than the traditional play pen. Judge if you will. Mama's happy and baby's safe.
I can't find them on Costco's website, but we got our 2' gray foam floor tiles for $12.99 in the store, half the price of some I ordered from Amazon.com.
Portable High Chair
We love our Inglesina. It travels well and is great for restaurants. We also took ours on vacation and it was wonderful to have. It takes up SO much less space than other high chairs and folds away into it's own little attached bag. Sienna is quite petite and fits so much better in this than the giant wooden chairs at most restaurants. The cover is washable and the seat is padded, making it more comfortable for her to sit in a for (a bit) longer. I also got this gently used on eBay. 2 thumbs up.
Someone to keep your baby!
We have been traveling a lot for the past 3 months, but now that the holidays are long past and we are back from our latest trip, I'm SO glad we found a sweet gal who is going to do some nannying for us. It's time, mamas. I'm ready to start doing more design work again and it's almost impossible to squeeze that plus housework plus cooking ALL into a couple of nap times...doable, definitely, but not easy.
What's also not easy at this point is taking Sienna to ANY appointments anymore. She's crawling these days, super social and does NOT want to hang out in that baby carrier while I'm seeing the doctor, chiropractor, etc. Rachel is only going to come here and there to stay with her, but I cannot tell you how freeing it is to think I might actually have time next week to go work at a coffee shop for a bit! Holy! I'm so excited. I know it's not always affordable, but even if you do it once a month, give yourself some time! Seriously. It's amazing. She was referred by a friend, so ask around to your friends who have kids just starting preschool. They may have just let go of a fabulous nanny!
Have any things to add to the list? I'd love to hear them! I can't believe little S is almost 10 months old. 1 year will be here in a flash. xo
Posted by

Laura
at 4:08 PM
No comments:

Labels: 10 months, 2014, 7 months, 8 months, 9 months, baby, boon, brezza, feeder, gifts, inglesina, must-have, nanny, needs, supplies