Here is what I've been up to lately:
Clockwise from top left: lovely fall in our front yard, GORGEOUS cowl sent as a gift from lovely Ravelers, Mattie shows off her winter raincoat, my handmade fox ring I created in my metals class.
I have been quite busy. And because I forgot to post this when I finished it, here is a sweater I have completed recently. I've been wearing it all of the time! The yarn is amazing,
Berroco Voyage
. Squishy and soft and lovely. The pattern is from
this book
, also by Berroco. You'll notice my cowl neck is a bit different. It looked funny when I just left it like the pattern says, so I folded it a bit and tacked it down. I love it this way! Proof that all is not lost when a knit doesn't turn out exactly like you expected. I am much happier with this style of cowl neck than that in the original design. I love happy accidents like this.
I'm currently working on a sweater for Pinky, finally! He always thought he would never wear one, but I think the chill here in the Pacific NW is getting to him, too. We went to Close Knit a few weeks ago and he showed me yarns he liked. He picked out a purple! SO proud of him for choosing a more unique man color. I'm making this pattern,
Cambridge Jacket
, by Ann Budd. Here is a crappy photo, because I can't find a larger one.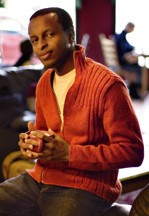 Pinky's will be out of this purple heather from Cascade 220, Rainier Heather, which is appropriately named for where we now live :) It's a really nice darker purple with lots of flecks of color.
Unfortunately, I've got knitter's elbow and wrist from working on it so far, so I haven't gotten as much done as I'd like. I recently switched to continental style knitting (or 'picking') instead of English style ('throwing'), but the gauge and fabric were a bit loose and uneven on my swatch for this sweater. (Yes, I actually did a swatch!). I decided to go back to English style knitting on this project because it is mostly stockinette and shows any inconsistencies in your knitting. I am already regretting it, just from a physical standpoint. The fabric looks great and even and I'm getting the right gauge, but I love the new style because it doesn't hurt me!! Try it out if you are having any pain in your right hand. It really did help me.
I cannot believe Thanksgiving is NEXT WEEK! Whew. Craziness. This is the first year I will be cooking for a large group of people. Pinky's sister and her family and brother and his wife are coming to our house this year. We are also having a couple of friends join us who aren't traveling. We'll have 3 boys and 3 dogs and a baby and 8 adults!! Wish me luck :)
Happy Thanksgiving to everyone and send me any favorite recipes for leftovers, if you have them. Turkey tetrazzini is one of my favorites! Not so healthy, but so yummy and comforting. Pretty much just noodles, turkey, cream of soup and cheese on top. How can you go wrong? Have a lovely one and enjoy your friends and family!
xoxox